If you are a hiker or if you just enjoy being in the Sandias, you know that our mountain is one of nature's special gifts. Have you ever wondered what you could do to help protect them? Do you want to learn more about the animals and plants you find there? Do you like to meet people who share your concern for the Sandia and Manzanita Mountains?
Welcome! Please explore our web site to learn more about the goals and many activities of the Friends of the Sandia Mountains (FOSM). Be sure to visit our Projects page to look for volunteer opportunities that match your interests and abilities.
---
KOB TV Features FOSM Volunteers
October 14, 2021 – Joy Wang of KOB TV's morning show presented a short video feature on the volunteer work of Friends of the Sandia Mountains that included comments by Sam Beard, Lou Romero, and Rav Nicholson. Click on the image below to watch the feature, which consists of recordings made on September 1 during a Wednesday fence-repair project at Doc Long Picnic Area. Thanks, Joy!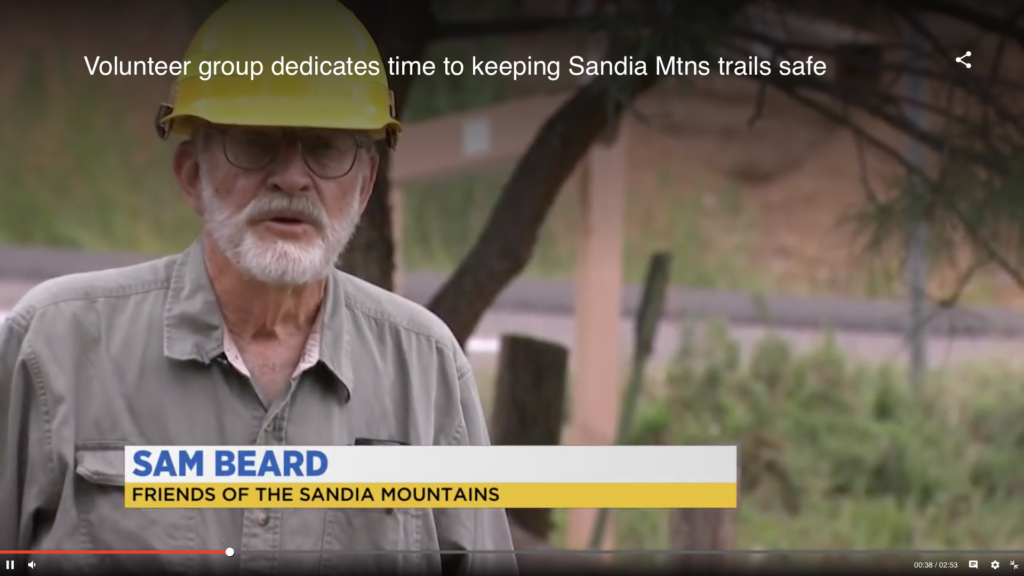 ---
New Officer and Board Members Elected
October 5, 2021 – The FOSM membership unanimously re-elected incumbents Mike Madden, Cliff Giles, Tim Brown, Don Carnicom, and Sally Lowder while also electing three new board members. Our thanks to the nominating committee headed by Sam Beard.
Silke Bletzer, Secretary
Originally from Germany, Silke grew up hiking and skiing in the mountains in Europe. Work took her to New York, until her husband Michael and she decided to move to the SW following his research here. Since moving to Albuquerque ten years ago, hiking buddies have taken her exploring the local mountains. After losing trails a few times, particularly when covered in snow, she got interested in local trail maintenance and joined FOSM and the NM Volunteers for the Outdoors. Silke has worked in the US and in Germany for Bayer Healthcare, the College Board as well as several Salesforce implementation partners. When not in front of the computer, she enjoys outdoor activities in the mountains and on the water.
Joelle Hertel, Special projects
Joelle grew up in Wisconsin. She moved to Albuquerque in 1975 to pursue a graduate degree in archaeology. After getting a Masters Degree, she worked for a few years in that field before returning to UNM to study Civil Engineering. With a Civil Engineering degree and later a Masters in Engineering Management, she worked throughout the country planning and directing large scale construction projects. Joelle retired after 30 years of traveling for work, and settled back in New Mexico in the East Mountains. She has volunteered with the USFS since 2014, coordinating restoration of heritage projects. The rest of the time she gardens, travels for fun, and enjoys her dog.
Steve Roholt, At large
Steve is a native of Wisconsin and has lived in Albuquerque since 1979. He has a bachelor's degree in Biology from the University of Wisconsin, Doctor of Dental Surgery from Marquette University, and completed a residency in Oral and Maxillofacial Surgery at the University of Iowa Hospitals and Clinics. He practiced Oral Surgery in Albuquerque from 1979 until his retirement in 2016. Steve has been a FOSM member (Life) since 2014. He enjoys spending time with his two children, and two grandchildren. He has been married to his wife Sue for 42 years. His other interests include fly fishing, hiking, downhill and cross-country skiing, and road and mountain cycling. He loves trail building and maintenance in the Sandias.
More information about FY2022 officers and board members can be found here.
We appreciate the years of service provided by the three board members who chose not to seek re-election: Rav Nicholson (Secretary since 2015), Dan Benton (Adopt-a-Trail, Adopt-a-Drop Wildlife Water Tanks), and Mike Coltrin (Webmaster since its inception). Dan has agree to continue to serve as point-of-contact for Adopt-a-Trail.
---
Annual Newsletter Published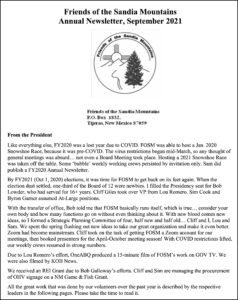 September 27, 2021 – FOSM co-founder Sam Beard has published his comprehensive annual newsletter summarizing all the great work done by our volunteers since last September.
FOSM President Mike Madden opens the 35-page report (including 17 pages of great pictures) with highlights of where we've been and where he hopes we'll be going in Fiscal Year (FY) 2022. Mike's remarks are following by summaries from project leaders of activities and accomplishments within their areas of responsibility.
It's a great read. (Click on the image at right.) Thanks to everyone who helped make it all happen!
---
City of Albuquerque features FOSM on GovTV
August 21, 2021 – "FOSM is awesome." Those were the words of Julie Padilla, Sandia Ranger District Recreation Staff Officer, during a 15-minute video produced by the City of Albuquerque and shown on One Albuquerque Media (GOV TV) on August 21, 2021. Six members of FOSM joined Julie in describing who FOSM is and what we do. You can view the video on the city's One Albuquerque Volunteer Series YouTube channel by clicking here.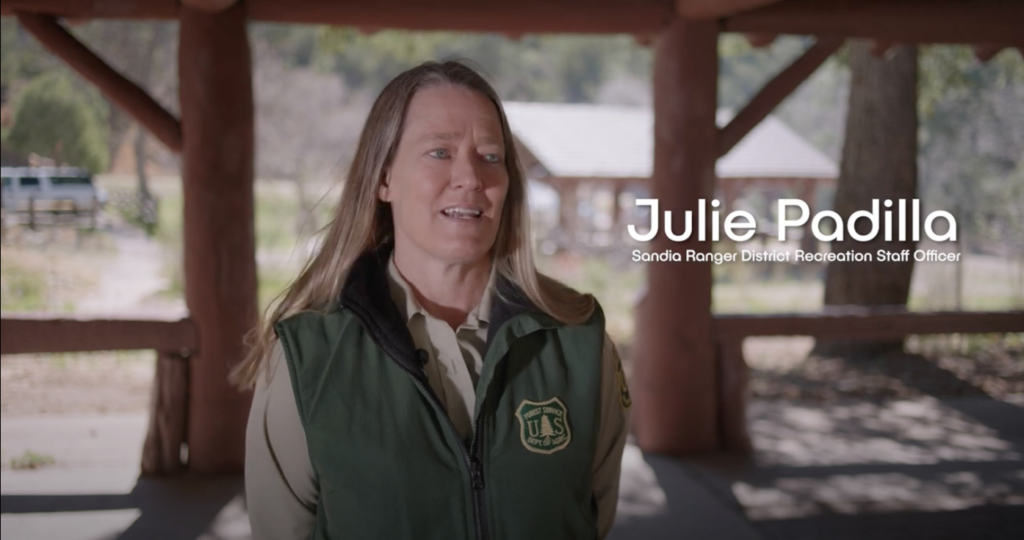 The city also created a webpage devoted to FOSM on its One Albuquerque Volunteers website.
---
Sandia Nordic Ski Club Gives Electric Chainsaw to FOSM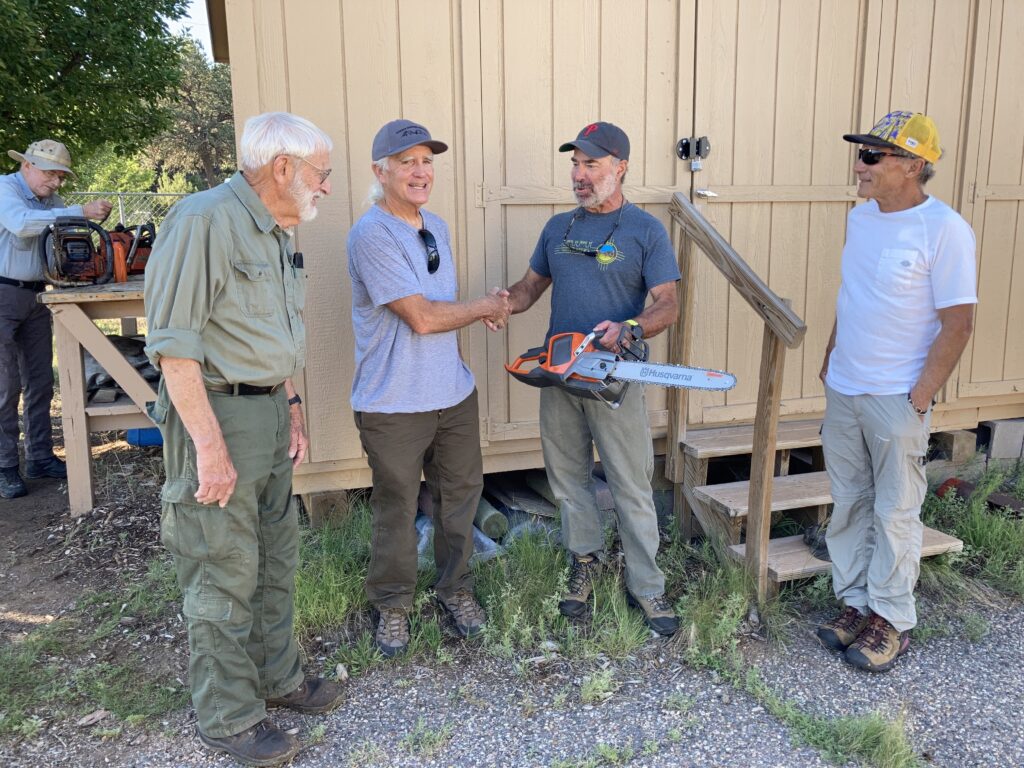 July 7, 2021 – Having received Forest Service approval to improve cross-country ski trails between 10K and Ellis Trailheads, Sandia Nordic Ski Club (SNSC) partnered with FOSM — specifically Sam Beard's Wednesday crew — to remove numerous dead and obstructing trees. In appreciation for FOSM's efforts, SNSC generously presented FOSM with a new Husqvarna electric chainsaw.
---
FOSM Members Introduce Students to the Sandia Mountains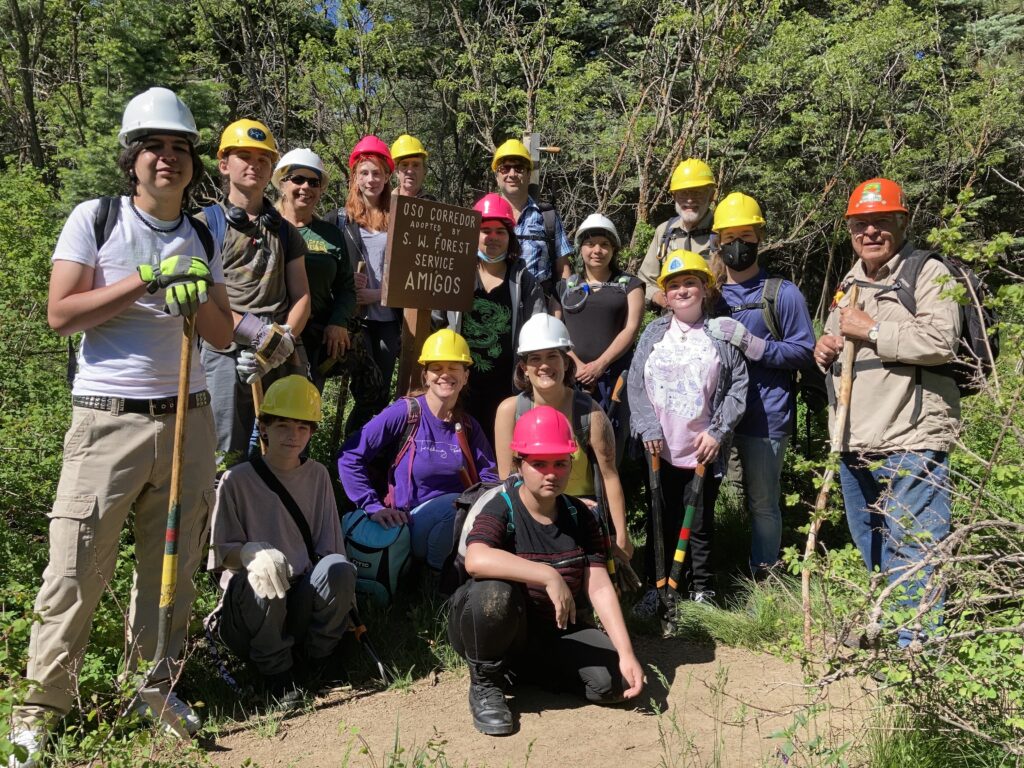 June 3, 2021 – Members of FOSM and Southwest Forest Service Amigos hosted high school students from the Albuquerque Digital Arts and Technology Academy (DATA), a local charter school.

Participants included nine students, four teachers, Amigos members Lou Romero (also a FOSM member) and Rene Archer plus FOSM volunteers Sam Beard and Cliff Giles.

The crew spent the day on Oso Corredor Trail performing erosion control work on the trail tread and lopping encroaching vegetation. Instructional vignettes included safety in the mountains, proper tool use, history of the Pulaski tool, fire-line construction, GPS use, tree-species identification, and use and care of crosscut saws.

Further information including photographs from the event can be found here.
---
We Said Goodbye to Jim and Judy Levesque
May 12, 2021 – We used Zoom and a collection of photos and video clips to say goodbye to Jim and Judy Levesque, who moved to Idaho, and thank them for their many years of service with FOSM.
---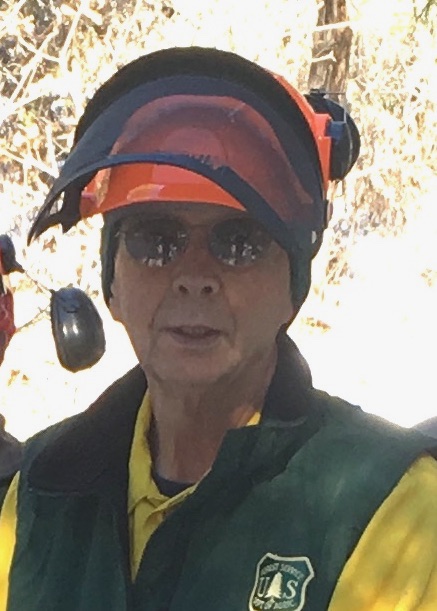 Bob Lowder Recognized as Albuquerque Volunteer of the Month
March 12, 2021 – Bob Lowder, Past-President of the Friends of the Sandia Mountains (FOSM) was recognized by Mayor Tim Keller as the Albuquerque Volunteer of the Month. The award was in recognition of Bob's leadership role as FOSM President for 16 years. The link below is the video presentation ceremony for the One Albuquerque Award for a coordinating the Little Libraries and then for Bob Lowder's presentation (starting approximately 18:40 into the video).
Congratulations and thanks for your dedication, Bob!
(YouTube video link: click here.)
---
Bob Lowder and Lou Romero Recognized for their Service as FOSM Officers
December 16, 2020 – Despite severe COVID restrictions and thanks to the efforts of Rav Nicholson, we were able to thank Bob Lowder for his 16 years of service as FOSM President and Lou Romero for his four years as Vice President. Congratulations and thanks, Bob and Lou!
---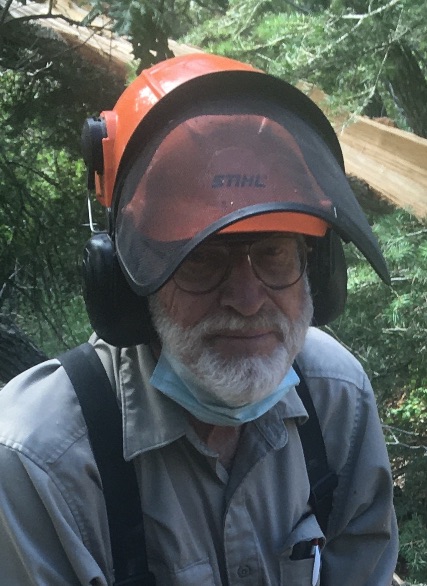 Sam Beard Recognized as Albuquerque Volunteer of the Month
September 4, 2019 – Sam Beard, long-time volunteer and FOSM Project Coordinator for FOSM was the inaugural recipient of the Albuquerque Volunteer of the Month. The award was presented by Mayor Tim Keller. The link below is a video of the presentation ceremony honoring Sam.
Congratulations and thank-you for your years of dedication and service to the Sandia Mountains, Sam!
(YouTube video link: click here.)
---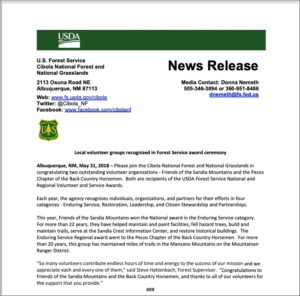 FOSM Recognized with National Award
May 31, 2018 – The Friends of the Sandia Mountains have been recognized by the USDA Forest Service with the National Award for Enduring Service. For more than 22 years, they have helped maintain and paint facilities, fell hazard trees, build and maintain trails, serve at the Sandia Crest Information Center, and restore historical buildings.
"So many volunteers contribute endless hours of time and energy to the success of our mission and we appreciate each and every one of them," said Steve Hattenbach, Forest Supervisor.
(To read the complete news release, click here.)